B
Bigsweir Bridge to Monmouth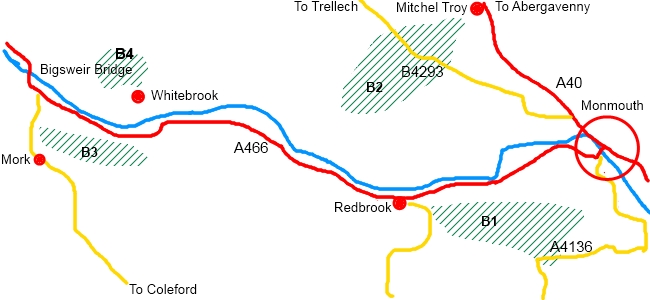 Walks:
B1: Redbrook's industrial heritage, memories of the British Navy, and a brief incursion into Highmeadow Woods
Grade: Moderate                   Length: 6.2 miles

Grade: Moderate                   Length: 5.2 miles

B3: Through oak woods and along an ancient road
Grade: Easy – moderate       Length: 4.8 miles
B4: Wild Daffodils in the Whitebrook valley
Grade: Moderate                   Length: 5.1 miles
Description of this stretch of the valley:
Bigsweir Bridge, built in 1827 when a new road was constructed along the Wye valley,  and connects England and Wales. It is made of cast iron, and recently (2011) underwent a lengthy restoration ( well – it seemed lengthy to those of us who use the valley road!). To the west of this bridge is the steep forested Whitebrook valley, which used to be well known for its paper mills. On the opposite of the Wye valley and a few miles further north is the very  similar steep Redbroook  valley – named because of the old copper works which were later displaced by tinplate manufacturing. This part of the Wye valley is notorious to local people for its occasional landslips, floods and fallen trees – some of the penalties of living in such a beautiful area. Going north the steep slopes of the Wye Valley give way to the plain where the Trothy and then the Monmow join the Wye, and where the county town of Monmouth is located.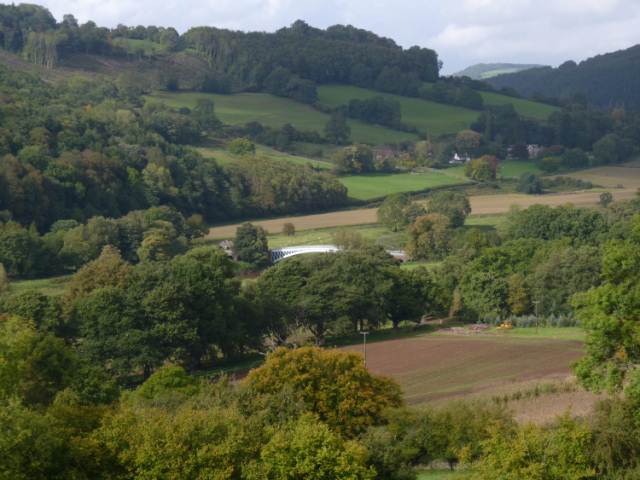 Useful links:
The Forest of Dean Tourist Information service provide information on short walks in this stretch of the Wye Valley and surrounding areas (www.royalforestofdean.info/walking.shtml).
The long distance Wye Valley walk also has more detailed information, including on the Chepstow to Monmouth section.