This walk provides views over Monmouth, including the railway viaduct  which used to carry trains over the Wye but the span over the river has now been removed. It goes through woods to the old church at Penallt, built in medieval times, and then loops back to Monmouth.
SUMMARY
Grade: Easy-moderate – A few slopes and a very muddy farm
Length: 5.2 miles
Key Features: Penallt Old Church;Beautiful views to Black Mountains and Malverns
Refreshments: Monmouth
For an interactive version of this map click the image above or here
Route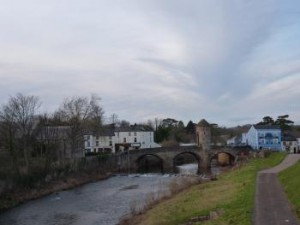 Park at the main cattle market car park in Monmouth, and then walk over the road bridge to the other side of the river Monmow.  Turn left, keep left past the petrol station, and take a small path which goes underneath the A40 road bridge.
Continue walking along the road up a slope until you get to a T junction, and here you turn left.  Carry along for a couple of hundred yards until the main road takes a steep turn to the right.  At this point you go left along a lane with a footpath signpost.  This will take you through a farmyard (which when we went through was exceedingly muddy). When you emerge you come to a fork, you want to take the left branch.  Continue for about 50 yards, until you get to the entrance to a field where there are two yellow arrows, one pointing straight on and one pointing right.  You want to go right – diagonally across the field.  Take this route across three fields, and in the last smalle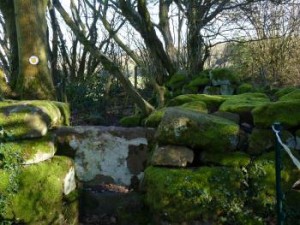 r field you walk towards a stile at the top right of the field.
Go over the stile into a small woodland area, and walk uphill, going straight across when you come to a forestry track.  You emerge from the woodland at another stile, and walk along the upper edge of the field you find yourself on.  When you come to a yellow arrow pointing left, follow this upwards, over a stile, back into some woodlands and up some wooden steps, and then turn right when you get to a track.  After about 50 yards, follow the yellow arrow left and up some more wooden steps.
You will come to a T junction of paths where you go left for about 10 yards, and shortly afterwards left again. away from a white house. In another 10 yards turn right over a stone stile followed by a wooden stile.  Follow the path across a series of small fields divided by a very old and very beautiful stiles.  At a country lane turn left, and walk downhill for about ½ mile until you come to Penallt Old Church.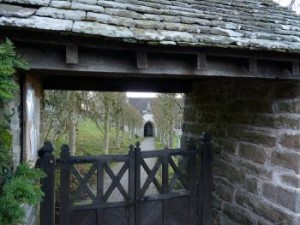 After you've looked around this, go past the church tower, and take the footpath which takes you northwards across the top of a field.  Follow the yellow arrows until you reach a wooded area, and follow the path as it goes left.  You will come to a track where you turn left again following the yellow arrows for about 20 yards.  You then need to keep your eyes open because you need to take a small path on your right downhill – this is marked by a yellow arrow, but this was rather hidden by the vegetation, even in the winter.  After a few yards you come to the edge of a larger sloping field.  You go across this diagonally, aiming for the metal gate on the far left hand side of the field, with trees on either side of it.  Follow the yellow arrows down to the farm which you went through earlier in the walk, and then retrace your steps to the car park.
The walk
We did this walk on one of those days in February which reminds you that grey is not a state of being, and that spring is hovering just ahead.  Its promises appear as hazel catkins and lords and ladies, and at this time of year it's important to take note of these pendulous treasures and green frippery, because they can be snatched away at the breath of the wind and the kiss of Jack Frost.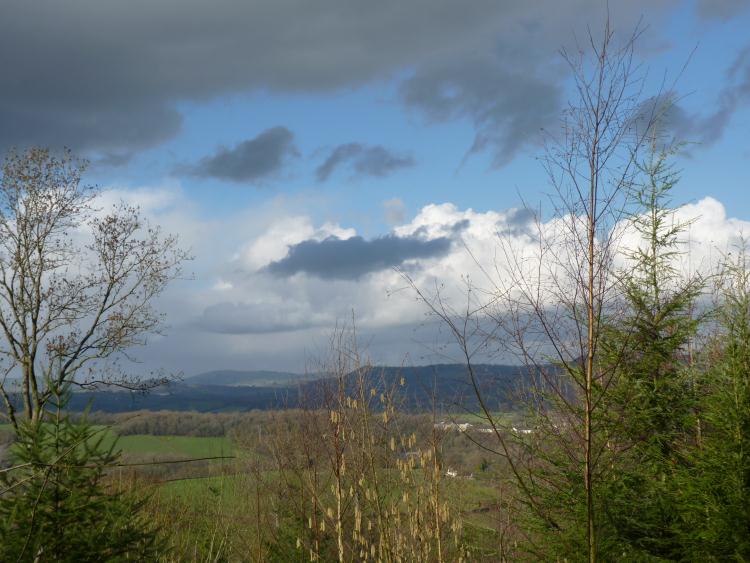 Indeed, when we were walking the clouds were threatening to create mini eclipses, but in between these there was bright blue sky. At one point, we were walking uphill straight towards a half moon embedded in the blueness.  At another point, we were in the depths of a green mossy wood, and suddenly the sun speared through the branches lighting up a burgeoning mass of snowdrops.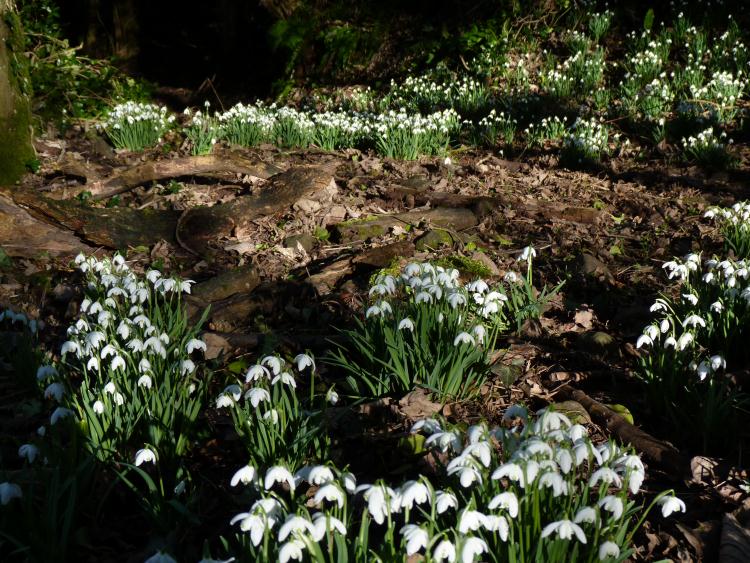 Penallt Old Church is beautifully situated, and in the summers when the Monmouthshire Meadows are open (www.monmouthshiremeadows.co.uk/) is a haven for wild flowers.  There is an ancient yew tree  in the churchyard, estimated to be about 1,000 years old.