F
Hay-on-Wye to Builth Wells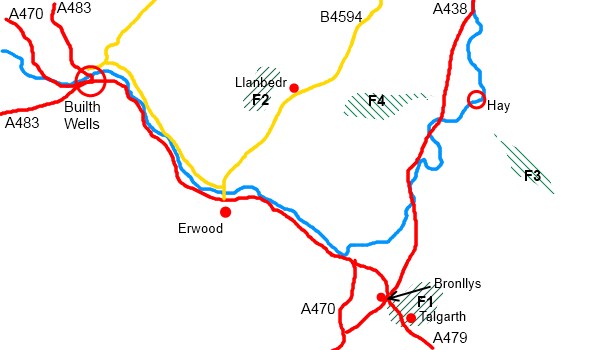 Walks:
F1: A wander around the (sometimes derelict) paths of Talgarth
Grade: Easy-moderate             Length: 7.2 miles
F2: A Radnor ridge between Aberedw and the Black Mountains
Grade: Easy-moderate             Length: 6.2 miles
Grade: Moderate-difficult          Length: 7 miles
Grade: Moderate                      Length: 7.5 miles
Description of this stretch of the river:
From Hay to just beyond Glasbury, the Wye remains placid. Above this the river runs straight and wild in a trough between a vast area of moorland called the  Mynydd Eppynt which comes "forging up through the heart of Breconshire from the Carmarthen mountains" ( A.G Bradley, 1926), and the steep and rugged Radnor Hills. The best known of these is Aberedw, where the last Welsh Prince,  Llewelyn ap Gruffydd  lived, fought and died. South of this is the moorland ridge between Llandeilo Hill and Rhulen Hill , described in Walk  F2.
Useful Links:
The Mynydd Eppynt, to the west of this stretch of the river is used for military training. However, if you want to go on a walk with a difference, a 50 mile long permissive bridle path called the Epynt Way ( lots of different spellings of Eppynt out there!) has been mapped going around the training areas. Further details ( and information on safety, firing times etc) can be found at the Epynt Way Associations's website.
The long distance Wye Valley Walk provides some information about walking along the Hay to Builth Wells stretch.  Another, less well known, long distance path 'Radnor Forest Ride' more or less bisects this stretch of the Wye Valley.