This walk is a shorter version of C1, but whereas C1 assumes that you stop half way around for a snack, this walk is for those who have had a hearty meal at Lower Symonds Yat, and want a sedate but interesting stroll to help it go down – and make room for tea at the end of the walk!
SUMMARY
Grade: Easy – There are a few steps up from the ferry and some gentle inclines. Biblins bridge sways, which some people (and dogs) don't like, but apart from that the route is level and easy.
Length: 2.5 miles
Key Features: Biblins bridge, rapids, ferry over Wye
Refreshments: Various hotels and cafes at Lower Symonds Yat, where the walk starts. Our favourite is the Saracen's Head, which has outdoor seating on a terrace over the river.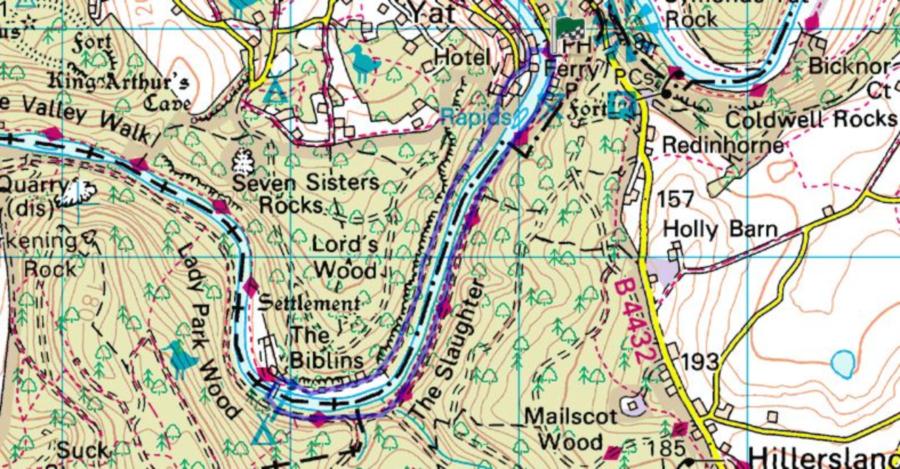 For an interactive version of this map click the image above or here
Route
This is a rou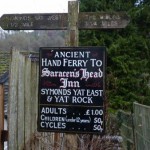 te intended as a an afternoon stroll after you've had an enjoyable lunch (or tea in the summer) at one of the pubs, hotels or cafes at lower Symonds Yat. I have described it here going anti clockwise –but it doesn't make any difference which way you do it.
So, start by getting the ferry over the river. You will need to ask in the bar of the Saracens head if one of their staff is available to take you over. Once you have got off t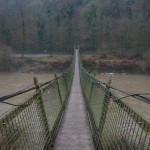 he ferry, go up a few steps and then left along the road until its bends sharply to the right.
Here you go left, where there are signs for the old Pump House and Holly Tree house, and from there follow the path along the river bank until you reach the wooden swaying bridge over to the other side of the river (Biblins bridge).
Go over the bridge, turn left and make your way back to a lower Symonds Yat, either along the cycling trail, or you can take some of the smaller footpaths nearer to the river.