This is a relatively short ridge walk, which begins fairly high up so you don't have too much of a climb to get to the top. Once on the ridge there are views over the mountains of mid Wales to the left, and of the Black Mountains to the right. The return is through farming country and ends up at a small lake with a bird hide.
SUMMARY
Grade: Easy-moderate. There's a fairly gentle short climb up to the ridge, and some rough ground underfoot in places. On the return, access had not been maintained by some farmers, which made the walk more difficult.
Length: 6.2 miles
Key Features: Walking along the ridge there are views over the mountains of mid Wales to the left, and of the Black Mountains to the right; Plenty of wildlife – we saw, amongst other things,  red kites, a hare, green woodpeckers, spotted woodpeckers, hairy caterpillars (Fox moth?)
Refreshments: Craft Centre off A470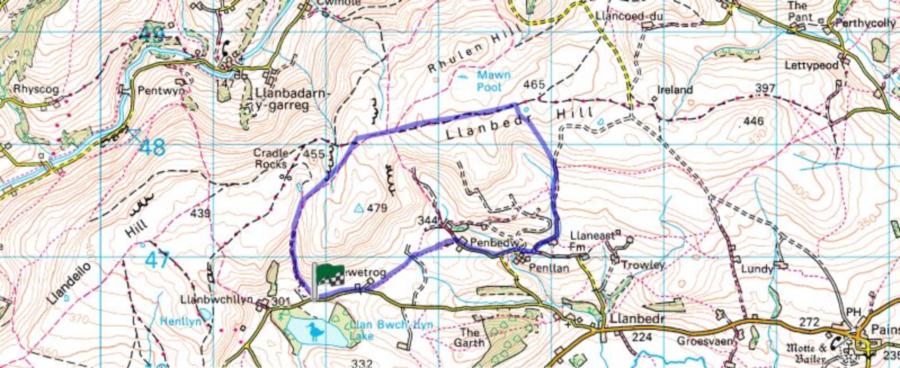 For an interactive version of this map click the image above or here
Route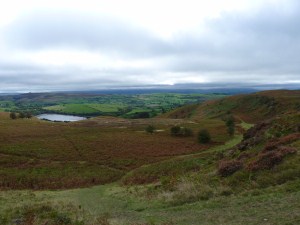 This walk starts at Llanbwchllwn.  If you're driving north up the A470 from Talgarth, turn right where a craft centre and the B4594 are signposted .  Follow the B road. and then minor roads to reach  Llanbwchllwn hamlet and lake, which are about 3 miles north east of the craft centre.
Go through the farmyard at Llanbwchllwn, keeping to the right and going through the gate near the stream (which was dry when we were there).  Continue straight up until the path divides, and take the right hand branch.
After a short uphill climb, turn right onto a track.  Continue to follow this track at the top of the ridge (with a few ups and downs), and ignore any other paths going off it. 
Eventually you'll come to a wooden sign post with a stone at the base, with the biggest collection of footpath signs -on all four sides- that I've ever seen.  Go straight on past this.
After about a mile, you come to a section where there are what look like wooden hoardings (but no posters!) placed randomly in the heather.  Go past these and you'll come to a section where the track becomes quite diffuse, and in front of you and to the right you'll see a pond.  You want to turn sharp right here, and take what looks like a sheep trail downhill.  If you get to a point on the main track where there is a stone cairn at a fork in the path, you have gone too far and need to turn back.
After 500 yards the 'sheep trail' joins on to a larger path coming in from the right.  You continue downhill on this larger path, which veers off leftward.
After another 500 yards where quite a few paths meets, veer down towards the right aiming towards a rusty metal gate.  You go through this and walk down the hawthorn edged green lane you find yourself in.  Continue down this lane, and eventually through a metal gate near some farm buildings.  Just after a ford, turn right.  At the farmyard go right on to the asphalted road,  and at the top of a hill take the right hand fork.
After some distance, you go through a metal gate into a small farm, and almost straight away turn sharp left through another metal gate, into a gently uphill sloping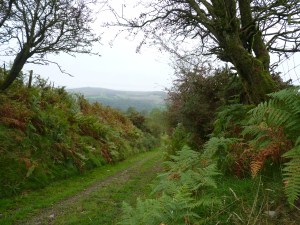 grassy lane.
After a short distance you will find two gates side by side in front of you, go through the left hand one.
Cross the field, keeping close to the fence on the right hand side.  At the end of this field, there was an extensive patch of mud and numerous gates going in various directions.  If you look straight ahead, maintaining the direction you were travelling in, you need to go through the gate which is at about two o'clock.  This was tied shut and impossible to open when we were doing the walk, and we had to climb over it.  In the next field keep to the left, and follow the grassy track which was probably created by a farmer driving into the field on his tractor.  Exit the field through a metal gate, and continue along the driveway until you meet an asphalted road where you turn right.
The walk
The early part of this walk was breathtaking. The light was beautiful, with low lying cloud on the Black mountains in the distance. Our ridge was clear though.  We could see sunlight coming from behind clouds to form spotlights which lit up yet another beautiful hilltop, or cloud, or strange, beautiful, shale like rock, or more mundanely – sheep.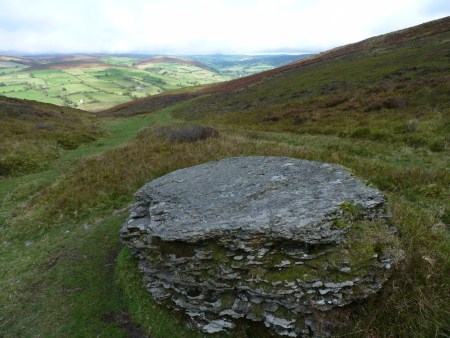 The moorland had been burnt off not too long ago, to encourage fresh, clean, growth.  So at the same time as having this light display, the air was filled with a sooty ash smell, and  in many places the gorse had been reduced to twisted black skeletons.  It was very odd, a bit like having your feet in hell and your eyes in paradise.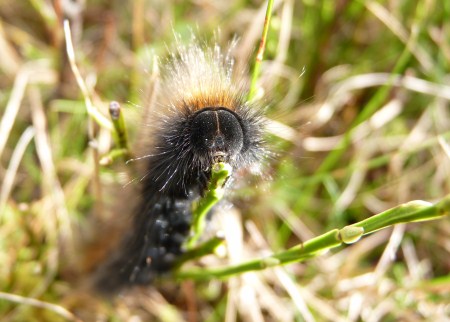 We saw plenty of wildlife.  On the top there were red kites, and masses of hairy caterpillars – many of them chomping their way up to the top of new shoots of heather.  I think they may have been caterpillars of the fox moth.  Walking down towards the farmland, we startled a hare, and a bit further along four birds flew out of a field.  I was a bit taken aback, and managed to work out that there were a pair of green woodpeckers, and a pair of spotted woodpeckers (but couldn't tell whether they were lesser or greater spotted).  I guess there must have been a woodpecker picnic in progress.