D
Ross-on-Wye to Hereford
Walks:
D1: Three churches and a bridge
Grade: Easy                       Length: 4 miles
D2: The Twin Bridges
Grade: Easy                       Length: 9 miles
Grade: Easy                       Length: 9 miles
D4: Through a Hole in the wall to 360 degree views
Grade: Easy-moderate       Length: 7.5 miles
Grade: Moderate                Length: 7 miles
D6: Yew trees and mistletoe galore
Grade: Easy-moderate      Length: 4.5 miles
Description of this stretch of the river:
This stretch of the river is characterised by extravagantly looping meanders in an alluvial floodplain. This plain in interrupted to the east by the steepish hills of a formation known as the Woolhope Dome. This seems to have fascinated Victorian geologists and naturalists as noted in A. G Bradley's travel guide to the Wye ( 1910) who  described a "a strange Silurian upcast of fantastic formation".
More prosaically the meanders of the river itself have resulted in many bridges of various sizes and structures crossing the river, in order to link otherwise isolated peninsulas of land. Personally,  I have a paricularly soft spot for the two Victorian suspension bridges at Foy and Sellack, built to link churches and parishes ( see Walks D1 and D2).
Hereford has been the dominant town on the Wye for centuries, back to Saxon times. It has been struggled over by the English and the Welsh, Royalists and the Parliamentarians in the civil war, and has even been beseiged by the Scots ( unsuccessfully).  Its cathedral is now a repository for the Mappa Mundi ( a medieval map of the world), and Saxon manuscipts which are kept in its 'chained library'.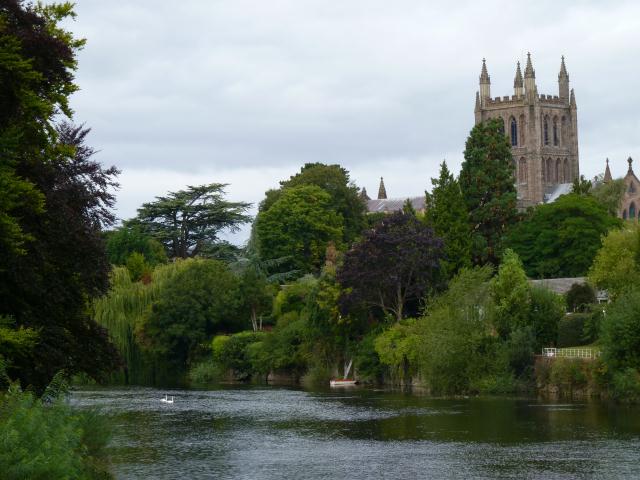 Useful links:
Herefordshire Council published downloadable leaflets describing 15 circular walks.
Ross on Wye has its own walking festival and Herefordshire walking festival includes a variety of walks.
The long distance Wye Valley Walk provides some information about walking along the Ross to Hereford stretch.