This is a pleasant circular walk amongst the orchards and hedgerows of rural Herefordshire, with some far views from the Malverns to the Black Mountains.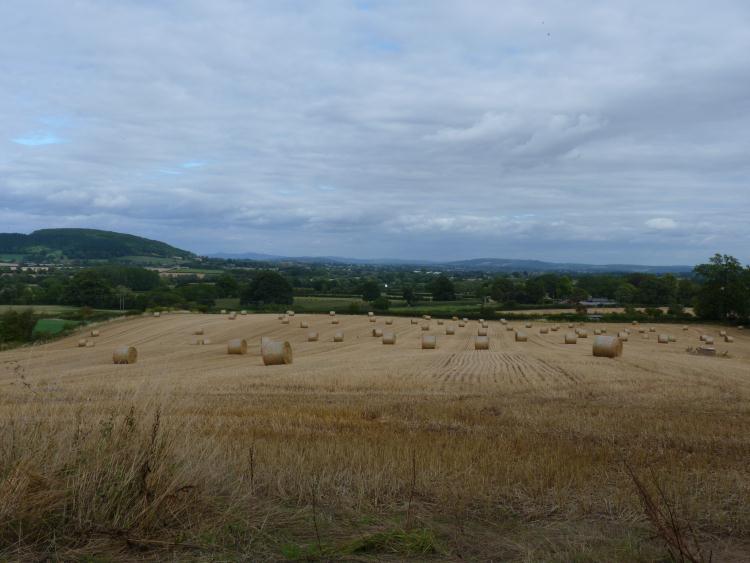 SUMMARY
Grade: Easy. A few undemanding ups and downs
Length: 7.4 miles
Key Features: Monnington Church; Offa's Dyke, extensive cider apple orchards; 270 degree views, including Black Mountains, Hay Bluff, and the Malverns
Refreshments: None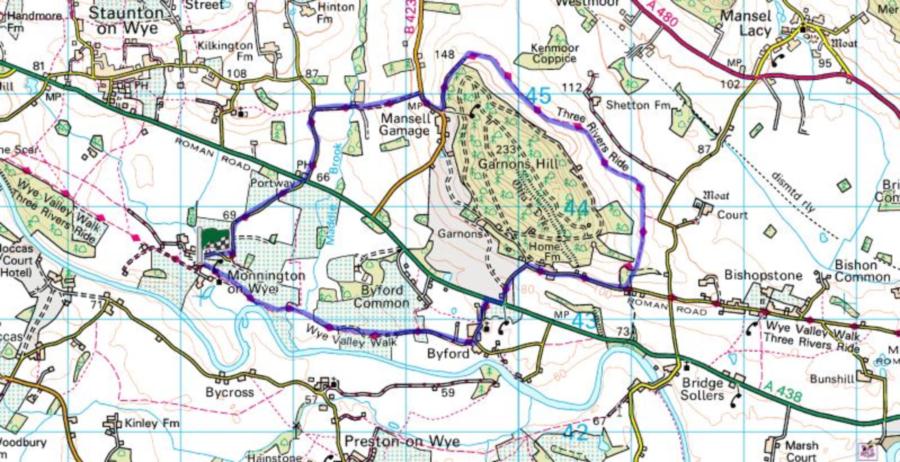 For an interactive version of this map click the image above or here
Route
This walk starts at Monnington on Wye, which is just south of the A438, about 1½ mile before Staunton on Wye.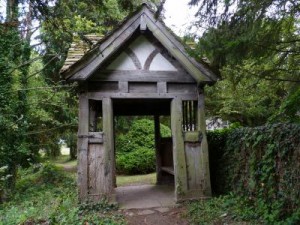 Make your way towards the church, which we approached through an old timber Lych gate.  The Wye valley walk goes through the churchyard, so follow the signs which take you into a cider apple orchard.  Continue to follow the Wye valley walk signs, going over a wooden bridge crossing a small stream.
The Wye valley walk goes through Byford, and then across the A 438.  This crossing is not particularly well signposted.  At the A438, cross the road, turn right for a short distance, and then turn left into what looks like a private drive (there is a gatehouse on the left hand side of the entrance).
Go up the 'drive', and when you come to a fork keep right.  Continue to follow the Wye valley walk along this path for about a mile, until you come to a signposted bridle way on your left, which you take.
As you go up the bridle way, take a moment to look backwards and see a splendid view of Hay Bluff.  At the top of the first incline on the bridle path, just as the path begins to swing round to the left, you will see far views again, this time of the Malvern hills.
Continue al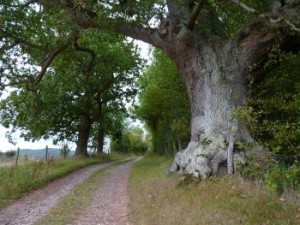 ong the bridle way, ignoring another path which comes in on the right hand side.  The bridle way continues skirting the wooded hill on your left, and continues to do this.
There are helpful blue arrows in some places, although these seem to have become detached from their posts in other places.  There are also a few stretches where the path is not been kept clear.  None of this matters as long as you continue to circle round the wooded hill on your left.
Eventually you will go through a metal gate on to a farm track, where you bear left.  Follow this for about ¾ mile until you come to Mansell Gamage, where you turn right.
Go along the road for a few hundred yards, and then take the bridleway on your left.  When you reach an asphalted road turn left and continue to the A438.  Almost directly opposite to you, but slightly to the right, is the road down into Monnington, and your car.
The walk
The church of Monnington on Wye was originally built in the early 13th century and then rebuilt at the end of the 17th century (including the Lych gate which I mentioned earlier). It gives a feeling of great age, not only because the building itself is old, but because there is no electricity.  The only lights are oil, and the heating is provided by a small portable gas heater.  It is also unusually situated, being almost completely surrounded by water – ponds ditches, and streams.  Most of these were full of pink Himalayan balsam at the time we visited.
Much of this walk is dominated by the cider apple orchards, with many different varieties of apple – rosy red, green, and yellow.  Some of the apple trees were very erect, whereas other varieties hugged the ground.  Scattered amongst the apple trees were huge ancient oaks, which stand like sentries, guarding against 'scrumpers' (for those of you who don't know, 'scrumping' is the old country term for stealing apples).

The hedgerows were also laden with riches: blackberries, elderberries, and hops.  I couldn't help thinking that almost all of these, and of course the apples, were just adding the final touches to their voluptuousness before their transformation into wine, beer, or cider. Many of them wouldn't get the chance though, because the local wildlife clearly thrived on all of the season's offerings.
We walked past several active badger setts, and most excitingly had a very good view of a hare.  We initially caught sight of it on the small road down to Monnington, and I managed to get a not very good photograph.  We walked carefully down the road, and could clearly see where it had gone through a hedge.  I stood on tip toes, and there it was about 6 feet away from me – enormous ears pinned down to its back, paddle like black tail scrunched underneath.  Hares are very old looking creatures, and I can never understand how anyone could confuse them with a rabbit.  I always think they look more like a small deer, except that someone has stuck some giant, comedy ears on them.  Their hind legs are massive in comparison with their front legs. Most of the time you don't notice this except when the hare stands up erect and its back becomes almost level with the top of those big ears.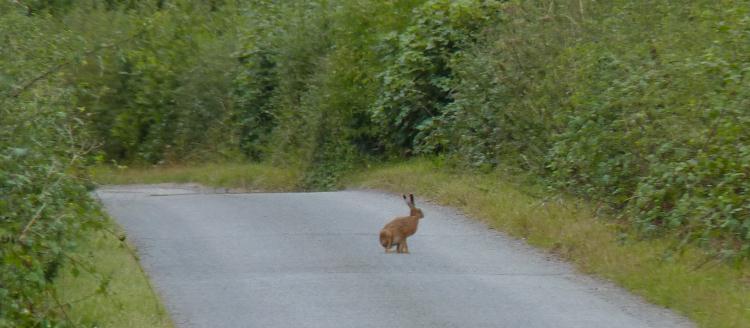 This walk did seem almost like one through the perfect English rural idyll.  Not only did we see apples and hedgerow fruit, there were swallows ducking and diving, the glorious autumn sun lit up waiting hay bales, and rolling hills formed a backdrop for it all.  Rather strangely, whilst I was reflecting on all of this, what appeared to be an oast house (a building used to dry fresh hops before they are sent to the brewers) appeared on the horizon – and for a confused moment I thought I had somehow been displaced to Kent.  When I got back home I looked this up, and apparently although most oast houses are in Kent and Sussex, about 10 per cent are found in Herefordshire and Worcestershire.