This area is famous for its wild daffodils, and in March every year the local villages of Kempley and Dymock get together to provide teas, and guided walks. You can find the dates this is happening in the forthcoming year here.
The walk is a long round which takes you through both of these villages, and the route is designed to share the joy of the exuberant show of pale yellow daffodils growing in their natural environment. Although long, the route is mostly level.
SUMMARY
Grade: Easy
Length: 9 miles
Key Features: Wild Daffodils – lots of them in March; Churches at Dymock and Kempley
Refreshments: If you go on a 'Daffodil weekend' refreshments are provided at both Dymock and Kempley. At other times the Beauchamp Arms at Dymock does pub food.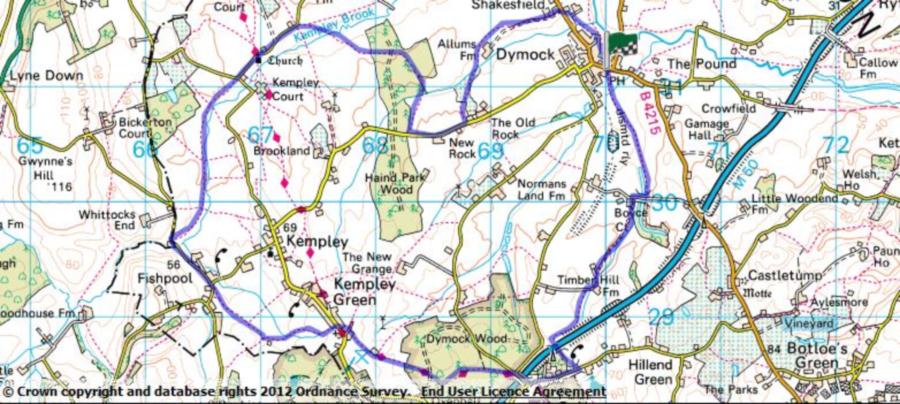 For an interactive version of this map click the image above or here
Route
The Daffodil Way is a waymarked path, and further details can be found through the Long Distance Walkers Association. Most people start at eithe Dymock or Kempley.
The walk
The day we went was glorious – crisp,  blue skies which later on darkened to a full moon, and with that exciting feeling that wondrously spring is going to win over winter again.
The daffodils made pale lemon carpets through the woodlands and in scrubby bits of fields, and along road verges.  They were joined by celandine, the emerging leaves of bluebells, clinger, and signs of wood anemones.
Most of the walk was through woods and grazing fields, where the lambs looked at as with curious innocence before reassuring themselves by turning to butt their mums furiously and have a feed.